The greatest barrier to building a safe structure in remote parts of the African Great Lakes Region is not always a lack of material resources, but rather a lack of expertise and access to information.
The built environment experts in these countries are often focused on infrastructure projects in major cities. The local designers and builders who are responsible for the vast majority of houses, churches, schools, or other community projects regularly lack training and regulations to guide them. This results in costly mistakes.
Bridging this knowledge gap is critical to ensuring that the investments communities make in the built environment are structurally sound, cost effective, and durable.
Practically, the lack of expertise and access to information in remote areas results in both poor construction techniques and bad planning. In the case of reinforced concrete technology, which is the main structural material used in this region, problems arise from poor mixes and wrong sizing of structural elements. These mistakes often lead to structural failures that can be fatal.
Local foremen often believe, for example, that adding water to concrete mixes produces the best concrete. While it is true that workability can be improved with plenty of water - especially when concrete is mixed by hand, the final compressive strength will be reduced significantly. In several projects where I've been involved, EMI had to recommend the demolition of concrete structures because concrete that was poorly mixed had failed compressive strength tests.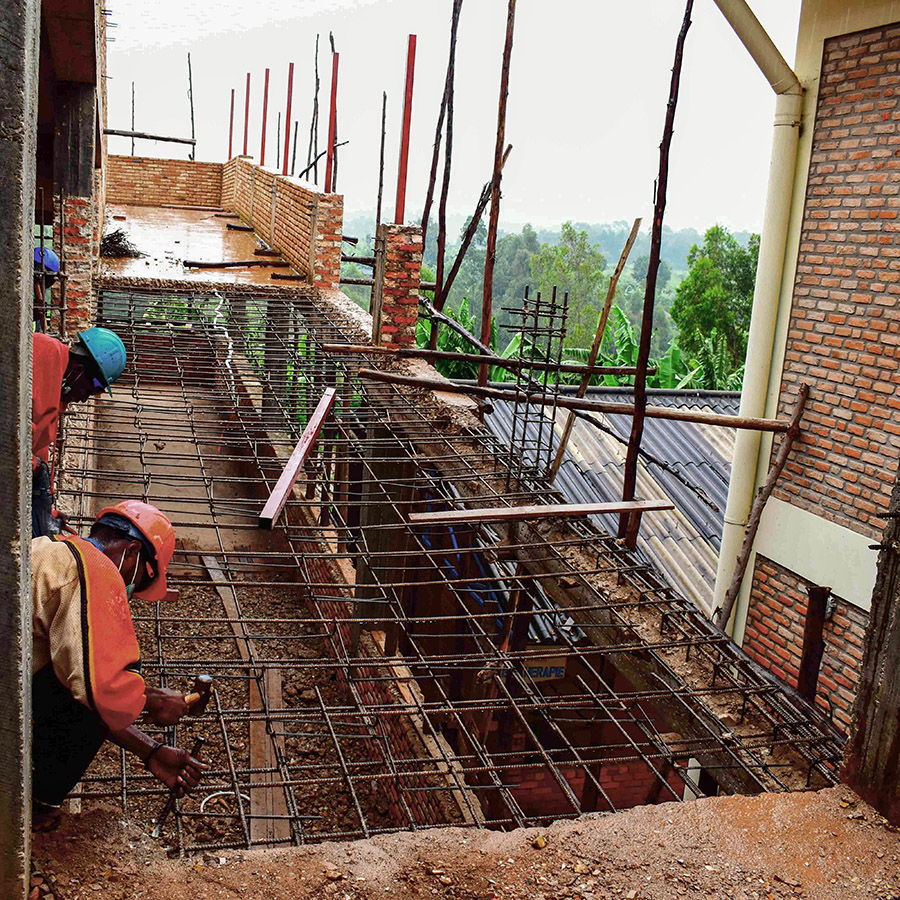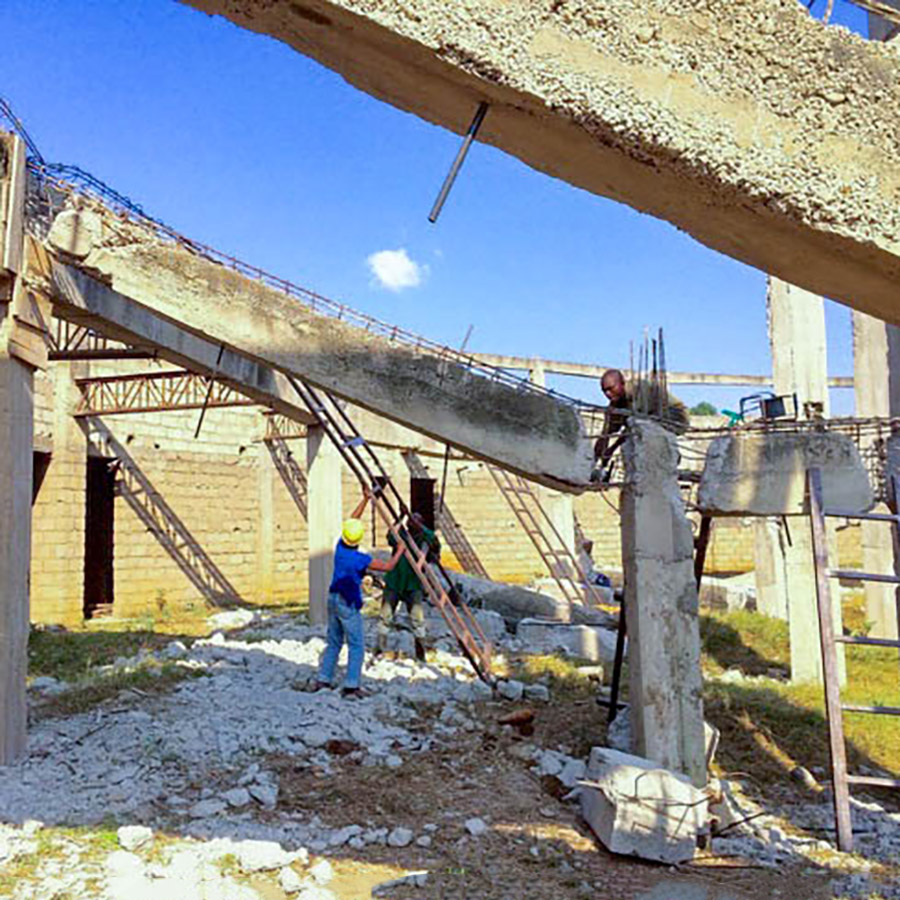 Gap between expertise and contextual knowledge
In 2016, EMI offered me a construction supervision position at a Christian university in the Democratic Republic of Congo. I was to supervise the structural retrofit, remediation, and construction of the university's core academic and administrative community centre facility. This building was designed to accommodate a 2400-seat auditorium, classrooms and offices.
A foreign architect unfamiliar with limitations of the Congolese context originally designed the building, which included technical features inappropriate to the site and environment. Central air-conditioning, elevators, and high-grade reinforced concrete were all unrealistic. This project was in an area where electrical power is unreliable, hand-mixing limits concrete quality, and airtight buildings are unbearable in tropical heat.
The biggest challenge, however, was that the local contractor did not have the expertise to construct such a massive building and could not understand the technical language used by the architect. The project was in serious trouble, and EMI was called in. An EMI team from Uganda visited the site to make changes to the design and prepare selective demolition, remediation, and construction plans.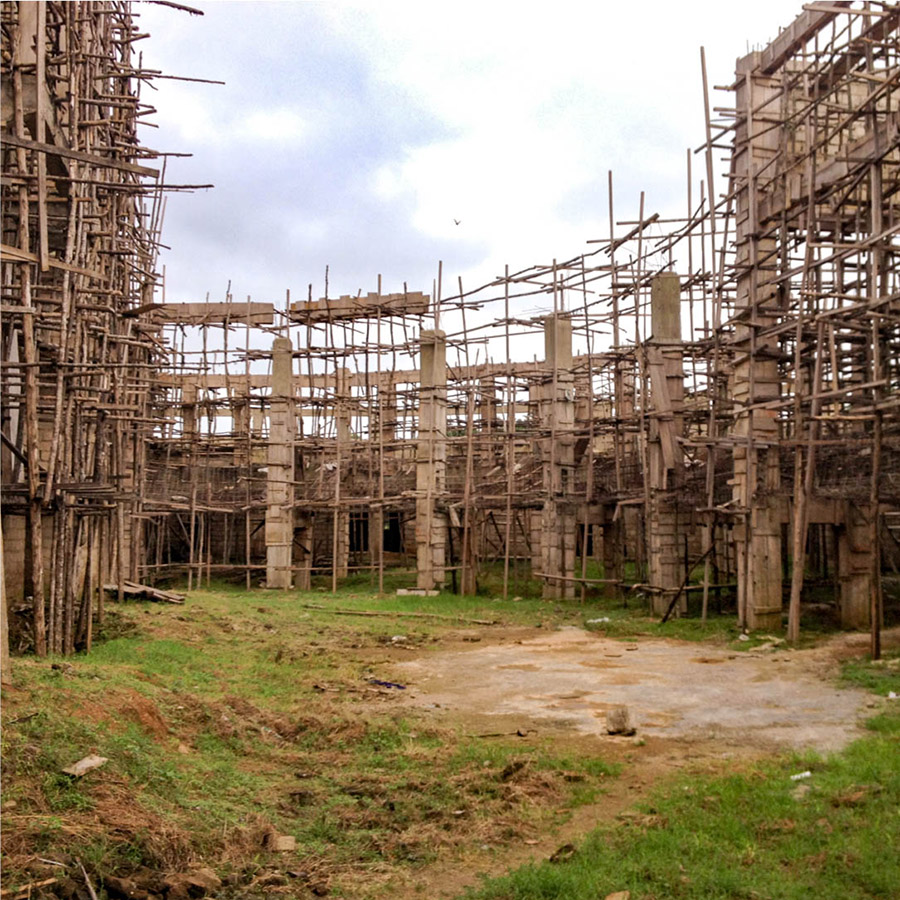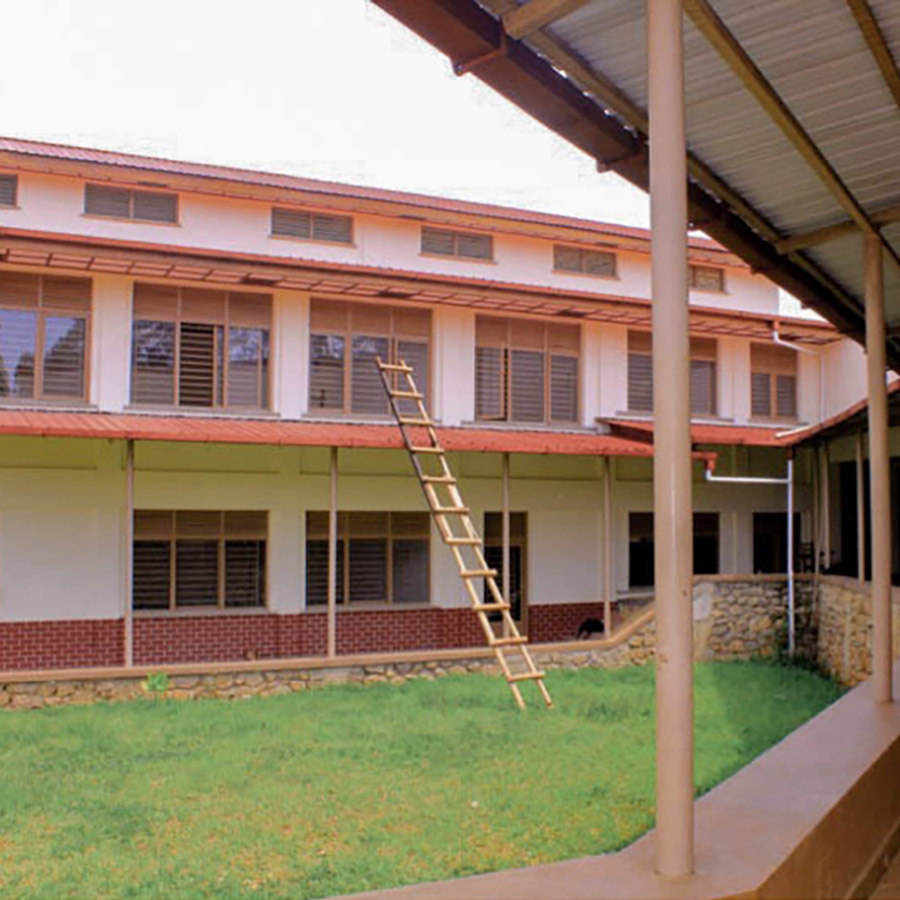 In 2019, EMI sent me to serve as Construction Manager at Kibuye Hope hospital in Burundi. When I arrived in this rural community, I was immediately saddened to see a church building reminiscent of the project in Congo. It is a massive building, and its structural elements are in a weakened, vulnerable state making the structure unsafe to occupy.
Unlike the university facility in the DRC, this church was designed and built locally. Unfortunately, these builders lacked training and an understanding of structural engineering. Again, EMI was invited to intervene and develop demolition and remediation plans, which are yet to be implemented.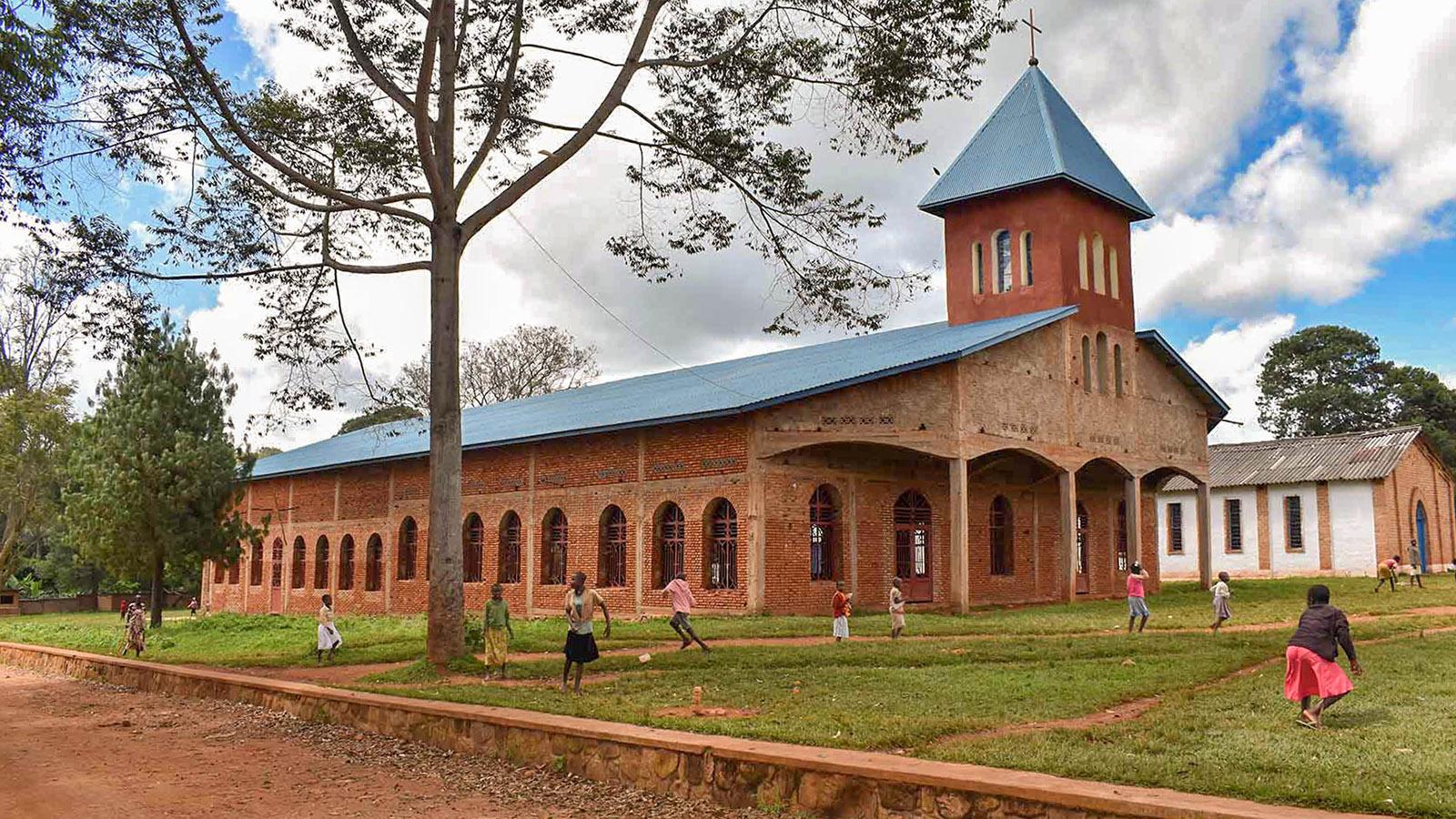 These examples are far too common in the region. They show that expertise without contextualized knowledge is dangerous, but also that contextualized knowledge is not enough to make up for a lack of training. A combination of both is required.
Bridging the gap: a collaborative approach 
Because EMI values collaborative design and incorporates diverse voices in our projects, I have also been part of success stories. Projects where key stakeholders were invited to exchange knowledge and bridge the gaps in understanding.
In 2020, I was designing the kindergarten building for the Kibuye community in Burundi. Our Burundian foreman informed me that the proposed design did not take into account seasonal horizontal rains that would flood the classrooms. I had been living in the area for almost a year but was not aware of this climatic challenge. If my team hadn't informed me, the building would have been non-functional during the rainy season.
As a solution, they recommended that we change the orientation of the roof. However, this change would solve one problem and create others. We would have lost the advantage of bringing natural air and light into the classrooms, and we would have compromised other technical and aesthetic attributes of the design.
Instead, we agreed to lengthen the roof eave, reduce the roof slope, and widen the veranda in front of the classrooms. This created a building that is well protected against rainwater, interior spaces that are cool even on hot days, and classrooms that are naturally well lit throughout the day.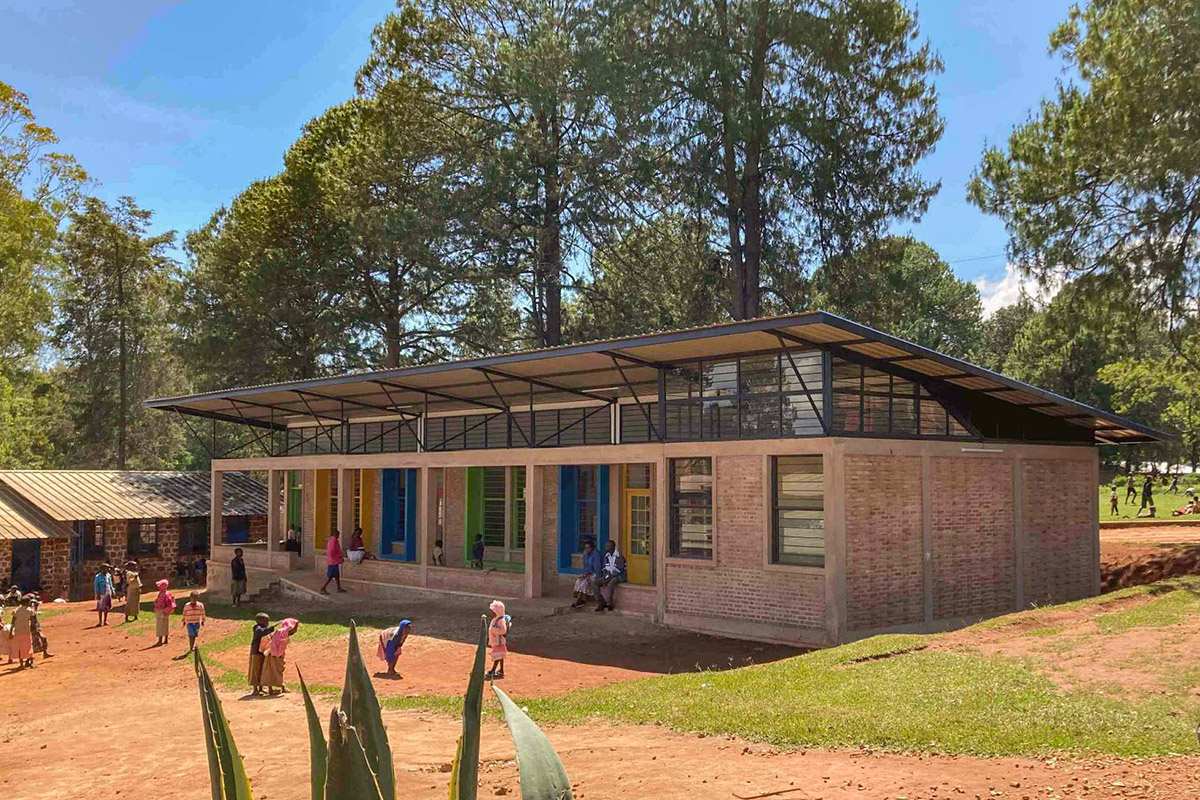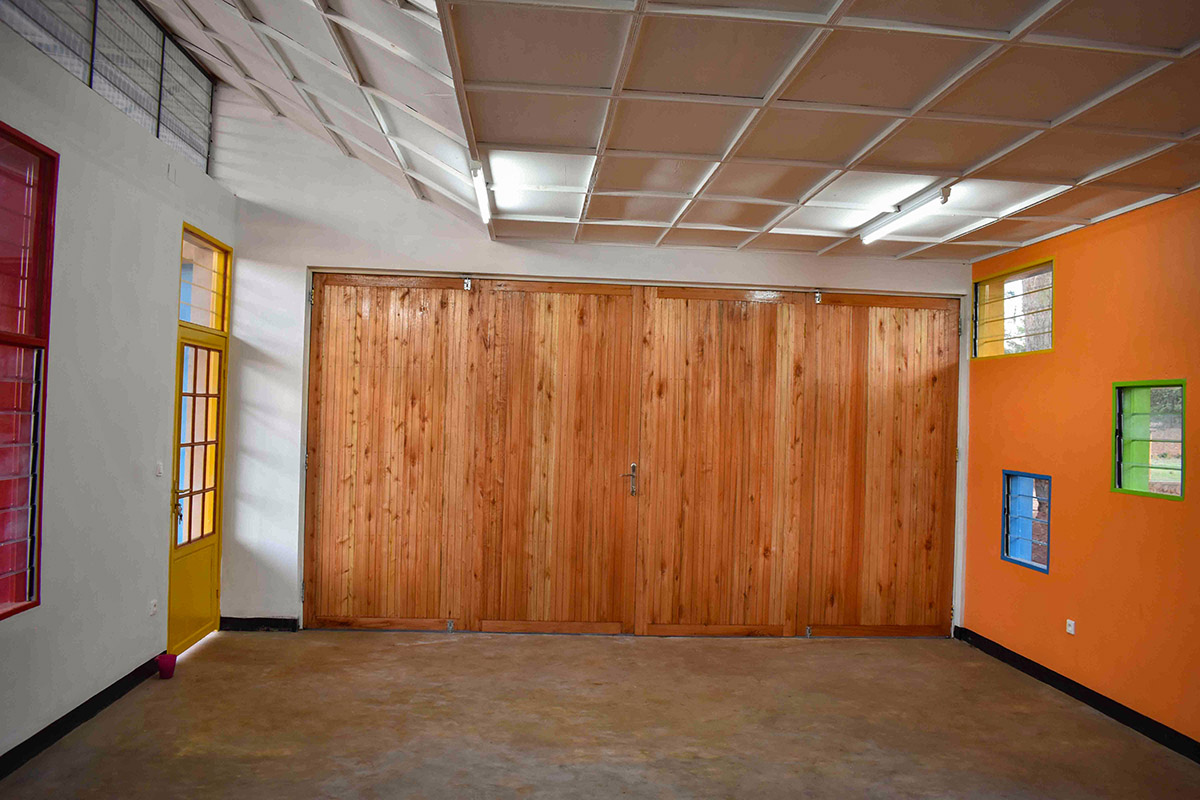 In another example, many of my construction team members were engaged in their own personal construction projects. I was invited several times to give technical advice. Due to their limited income and lack of access to credit, Burundians often build their homes in phases. They typically start with the stone foundations and burnt brick walls before adding the more expensive structural elements.
The problem is that while the family is saving funds for the costly rebar, concrete, and roofing components, the brick walls are left exposed to rains and they deteriorate over time. Before the building is completed, structural defects, cracks, and sagging occur.
To demonstrate a better approach to construction phasing, I used a multi-unit residential building project as a learning opportunity. Together with the crew, we started with the foundation work and the ground floor concrete slab. Columns, beams and the upper floor suspended slab came next. The third phase was the roof installation, which covered the building and allowed us to work inside as the rainy season approached. The fourth phase consisted of raising interior and exterior walls without fear of inclement weather. The fifth phase included interior and exterior finishing, plumbing and electrical installation. Finally, we addressed drainage around the building, which is generally disregarded in that context.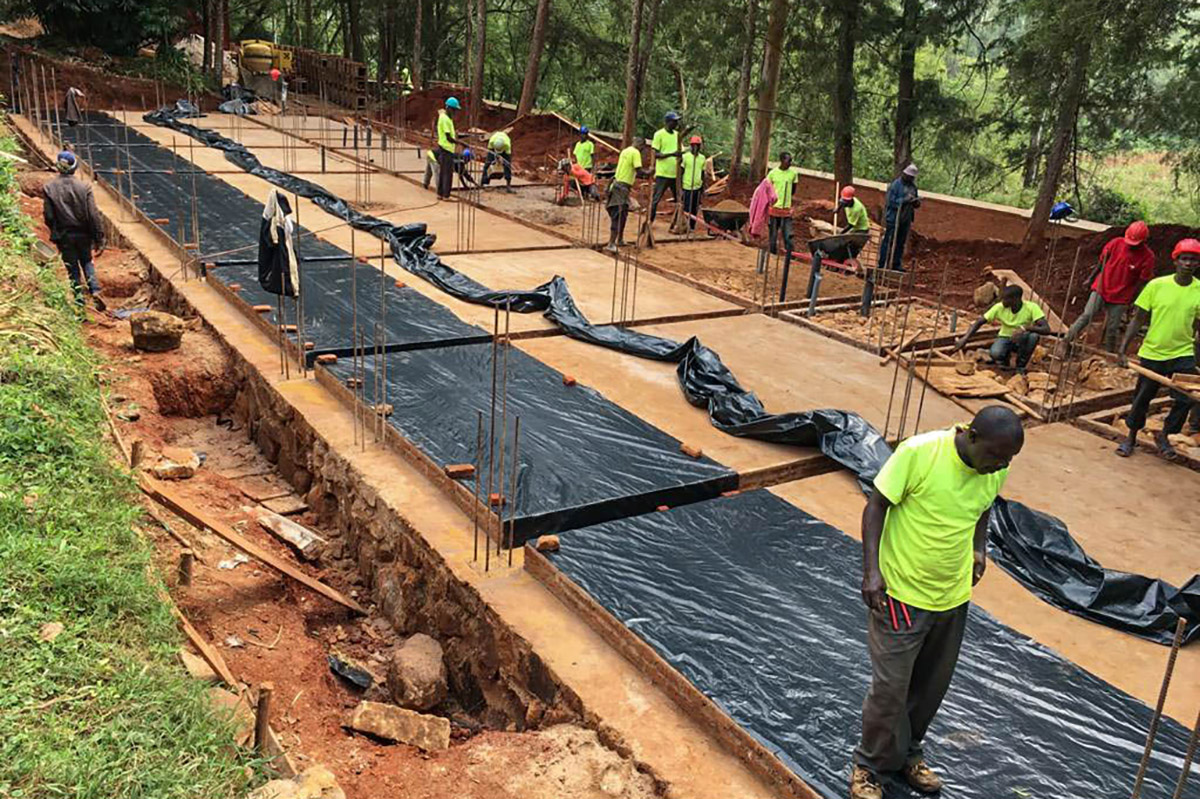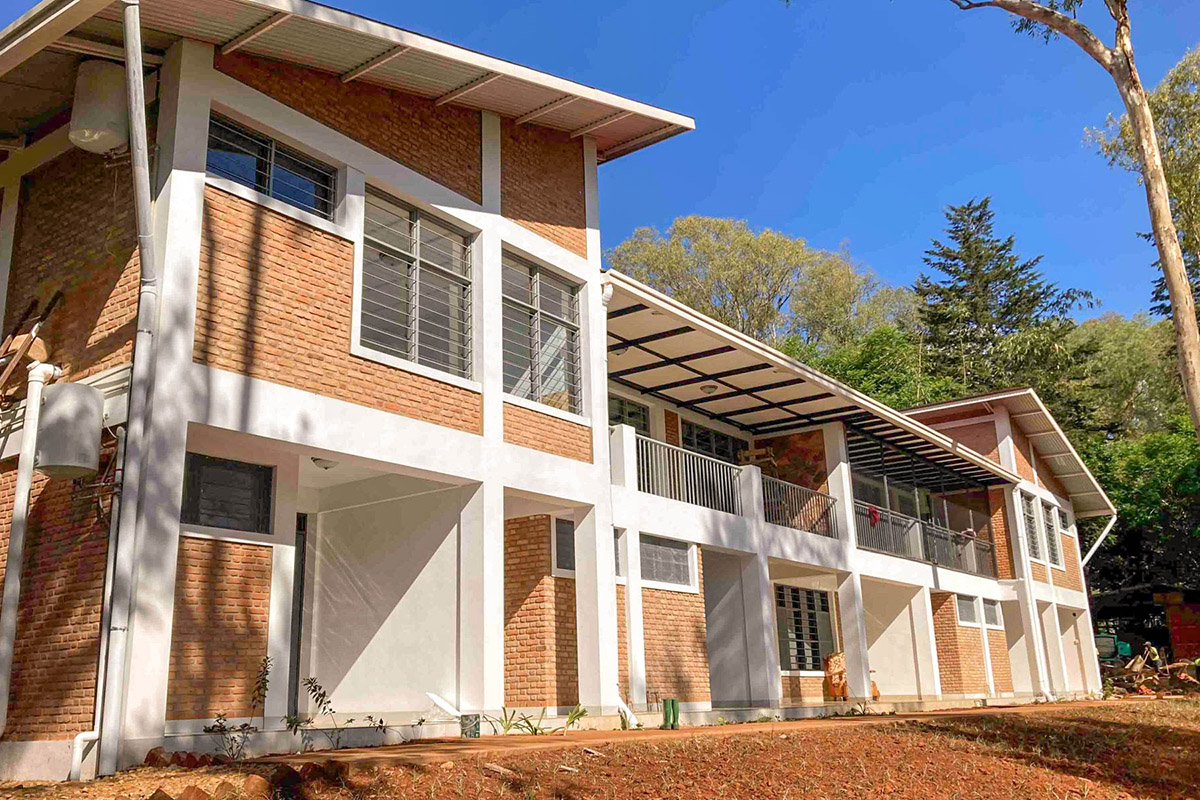 A way forward
So how can we intentionally bridge the knowledge gap for builders in remote regions and prevent wasted resources and unsafe buildings that endanger lives?
One answer is to better equip local builders and craftsmen who have basic training. Built environment professionals in the region and organisations such as EMI have an opportunity to creatively disseminate technical knowledge to builders at the grassroots level.
This sort of intervention can take several forms. Professionals could develop and publish basic construction guides, which take into account the technological and socio-economic realities of these remote regions. Firms could offer workshops and short courses that are accessible to remote builders in terms of price, location, and language as a corporate social responsibility project that leads to meaningful change in society.
Finally, built environment professionals with advanced degrees can be more willing to share information and knowledge with local foremen and construction crews they encounter on various sites. Problem solving together will lead to innovative solutions.
From my perspective, valuing and equipping local builders is worth the effort because it results in better construction practice, efficient use of resources, and knowledge exchange with long lasting benefits for everyone.
Combler les lacunes de connaissances
Construction structurellement solide et à cout effectif dans la région des Grands Lacs africains
Le plus grand obstacle à la construction d'un bâtiment structurellement stable dans les milieux reculés de la région des Grands Lacs africains n'est pas toujours un manque de ressources matérielles, mais très souvent un manque d'expertise et d'accès à l'information.
Les architectes et ingénieurs dans ces pays se concentrent souvent sur des projets d'infrastructure dans les grandes villes. Les constructeurs locaux qui sont responsables de la conception et de la construction de la grande majorité des maisons, églises, écoles ou autres projets communautaires manquent régulièrement de formation et de réglementations pour les guider. Cela entraîne des erreurs coûteuses. Il est alors important de combler ces lacunes de connaissances pour s'assurer que les investissements que les communautés font dans la construction produisent des bâtiments structurellement stables, durable et à cout effectif.
En pratique, le manque d'expertise et d'accès à l'information dans les zones reculées se traduit à la fois par de mauvaises techniques de construction et une mauvaise planification. Dans le cas de la technologie du béton armé, qui est le principal matériau de structure utilisé dans cette région, les problèmes proviennent de mauvais mélanges et de mauvais dimensionnements des éléments structurels. Ces erreurs conduisent souvent à des défaillances structurelles qui peuvent être fatales.
Par exemple, les contremaîtres locaux croient souvent que l'ajout d'eau aux mélanges de béton produit le meilleur béton. S'il est vrai que la maniabilité peut être améliorée avec beaucoup d'eau, surtout lorsque le béton est mélangé à la main ; la résistance à la compression est considérablement réduite. Dans plusieurs projets où j'ai été impliqué, EMI a dû recommander la démolition des structures en béton parce que le béton mal mélangé avait échoué aux tests de résistance à la compression.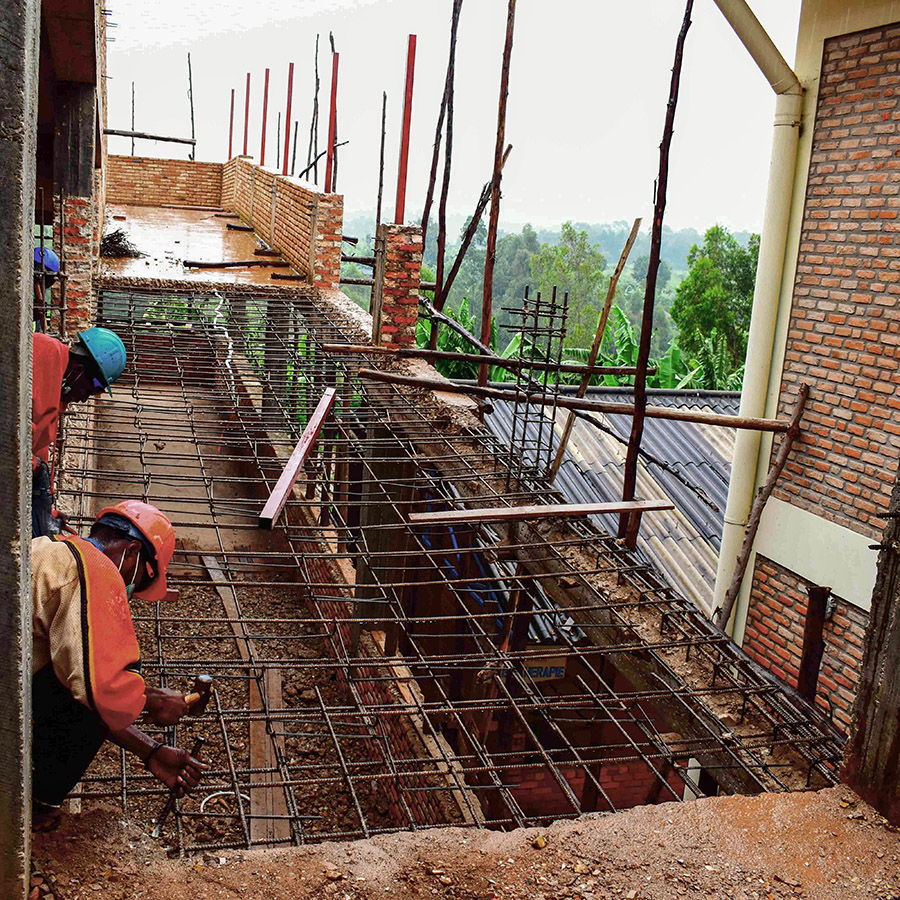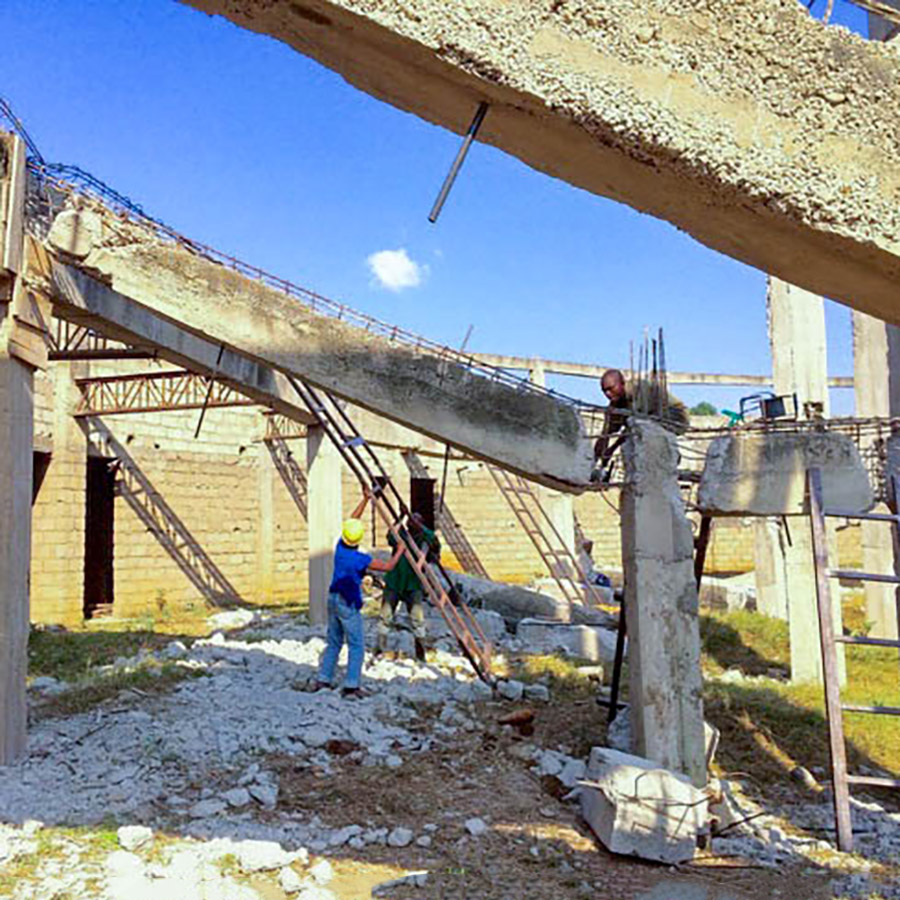 Écart entre expertise et connaissance contextuelle
En 2016, EMI m'a offert un poste de superviseur de construction dans une université chrétienne en République Démocratique du Congo. Je devais superviser la rénovation structurelle et la construction du centre communautaire de l'université. Ce bâtiment avait été conçu pour contenir un auditorium de 2400 places, des salles de classe et des bureaux.
Au départ, un architecte étranger peu familiarisé avec le contexte congolais avait conçu ce bâtiment, qui comprenait des aspects techniques inappropriés à la région. La climatisation centrale, les ascenseurs et le béton armé de haute qualité étaient tous irréalistes. Ce projet se situe dans une région où l'alimentation électrique n'est pas fiable, le mélange manuel limite la qualité du béton et les bâtiments hermétiques sont insupportables sous la chaleur tropicale.
Cependant le plus grand défi était que le superviseur local de travaux n'avait pas d'expertise pour construire un bâtiment aussi massif et ne parvenait pas à comprendre le langage technique utilisé par l'architecte. Le projet était en grave difficulté et les services de EMI avaient été sollicités. Une équipe de EMI Ouganda avait alors visité le site pour apporter des modifications au bâtiment et préparer des plans de démolition sélective, de rénovation et de construction.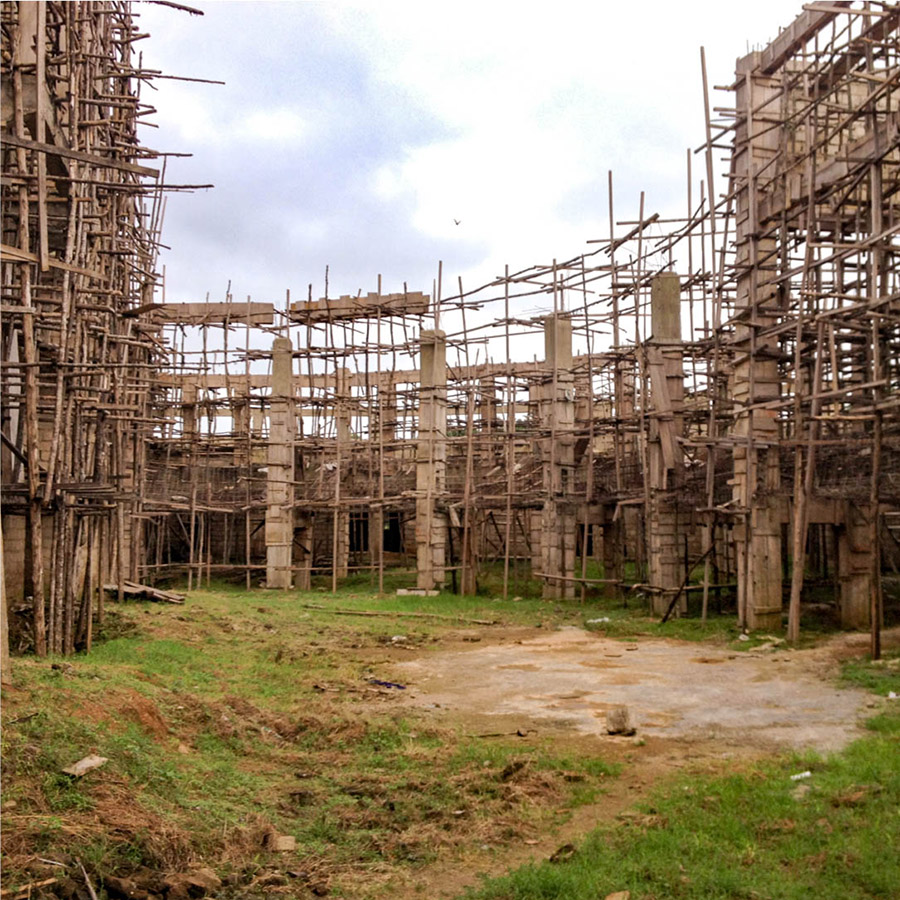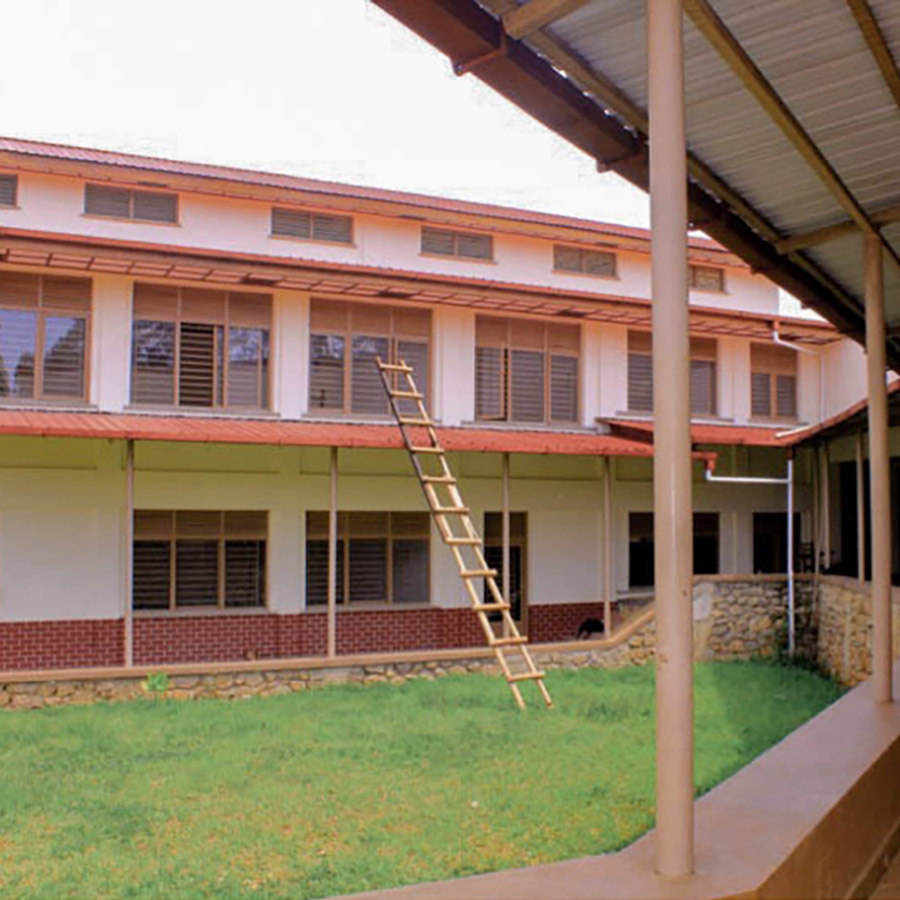 En 2019, EMI m'a affecté comme directeur de construction à l'hôpital Espoir de Kibuye au Burundi. Quand je suis arrivé dans cette communauté rurale, j'ai été immédiatement attristé de voir un bâtiment d'église qui rappelle le projet au Congo. C'est un bâtiment massif et ses éléments de structure sont dans un état affaibli et vulnérable, ce qui rend la structure dangereuse à occuper.
Contrairement au centre communautaire de l'université en RDC, cette église a été conçue et construite localement. Malheureusement, ces constructeurs manquaient de formation et de compréhension de l'ingénierie structurelle. Encore une fois, EMI a été invitée à intervenir et à élaborer des plans de démolition et de rénovation, qui ne sont pas encore exécutés.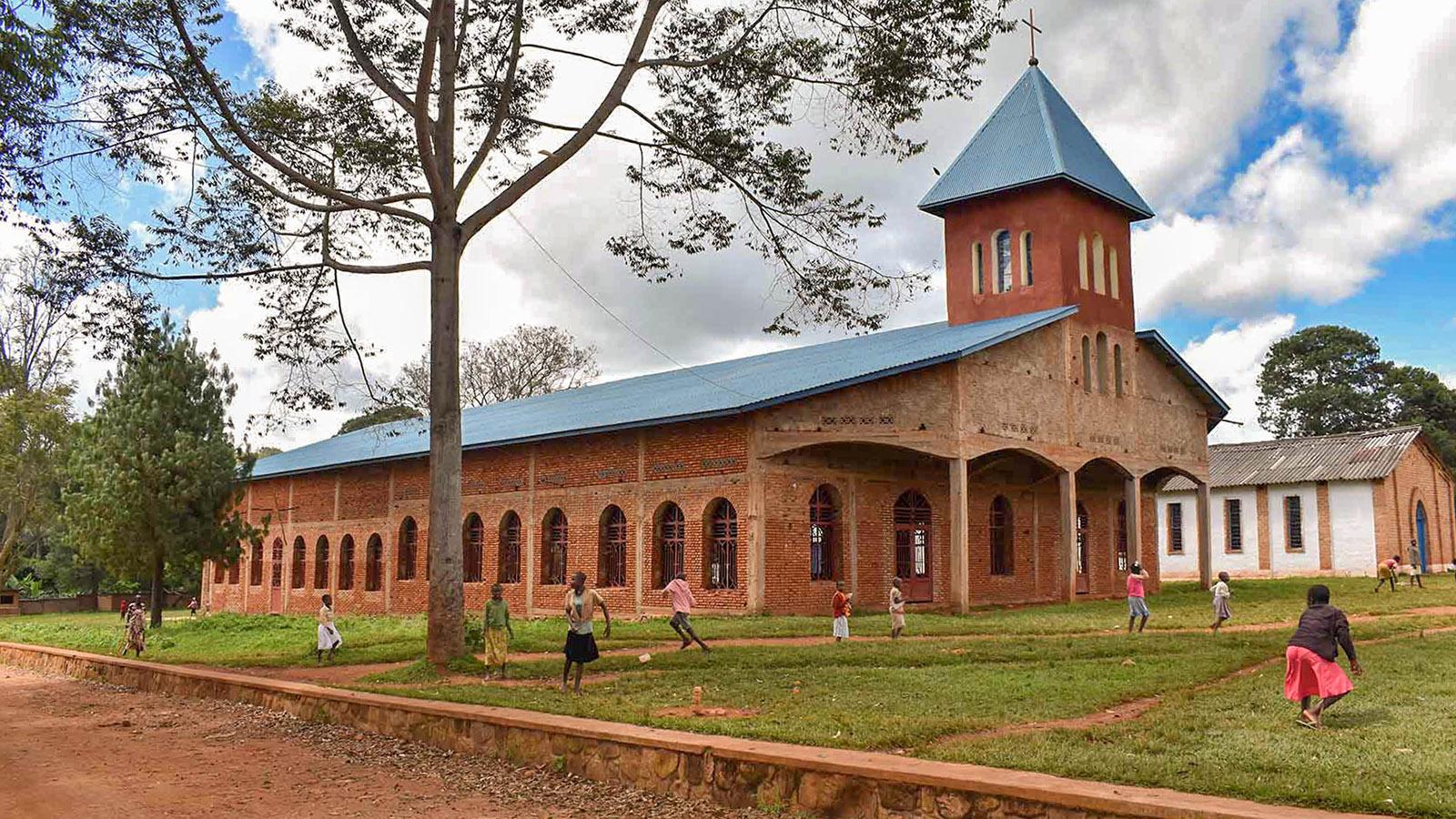 Ces exemples sont beaucoup trop fréquents dans la région. Ils montrent qu'une expertise sans connaissances contextualisées est dangereuse, mais aussi que des connaissances contextualisées ne suffisent pas à pallier au manque de formation. Une combinaison des deux est requise.
Combler l'écart: une approche collaborative
Parce que EMI valorise la conception collaborative et intègre diverses voix dans ses projets, j'ai eu l'occasion de faire partie des projets qui ont réussis. Ce sont des projets où les principales parties prenantes sont invitées à échanger les connaissances et à combler les lacunes.
En 2020, je concevais le bâtiment de l'école maternelle de la communauté de Kibuye. Notre contremaître burundais m'a informé que le plan proposé ne tenait pas compte des pluies horizontales saisonnières qui inonderaient les salles de classe. J'habitais la région depuis près d'une année mais je n'étais pas au courant de ce défi climatique. Si mon équipe ne m'avait pas prévenu, le bâtiment aurait été non fonctionnel pendant la saison des pluies.
Comme solution, ils m'ont proposé de changer l'orientation de la toiture. Cependant, ce changement résoudrait un problème et en créerait d'autres. Nous aurions perdu l'avantage d'apporter de l'air frais et de la lumière naturelle dans les salles de classe, et nous aurions compromis d'autres attributs techniques et esthétiques de la conception.
Au lieu de cela, nous avons convenu d'allonger le débordement de la toiture, de réduire la pente du toit et d'élargir la véranda devant les salles de classe. Cette solution a créé un bâtiment bien protégé contre les eaux de pluie, des espaces intérieurs frais même pendant des jours chauds et des salles de classe naturellement bien éclairées le long de journées.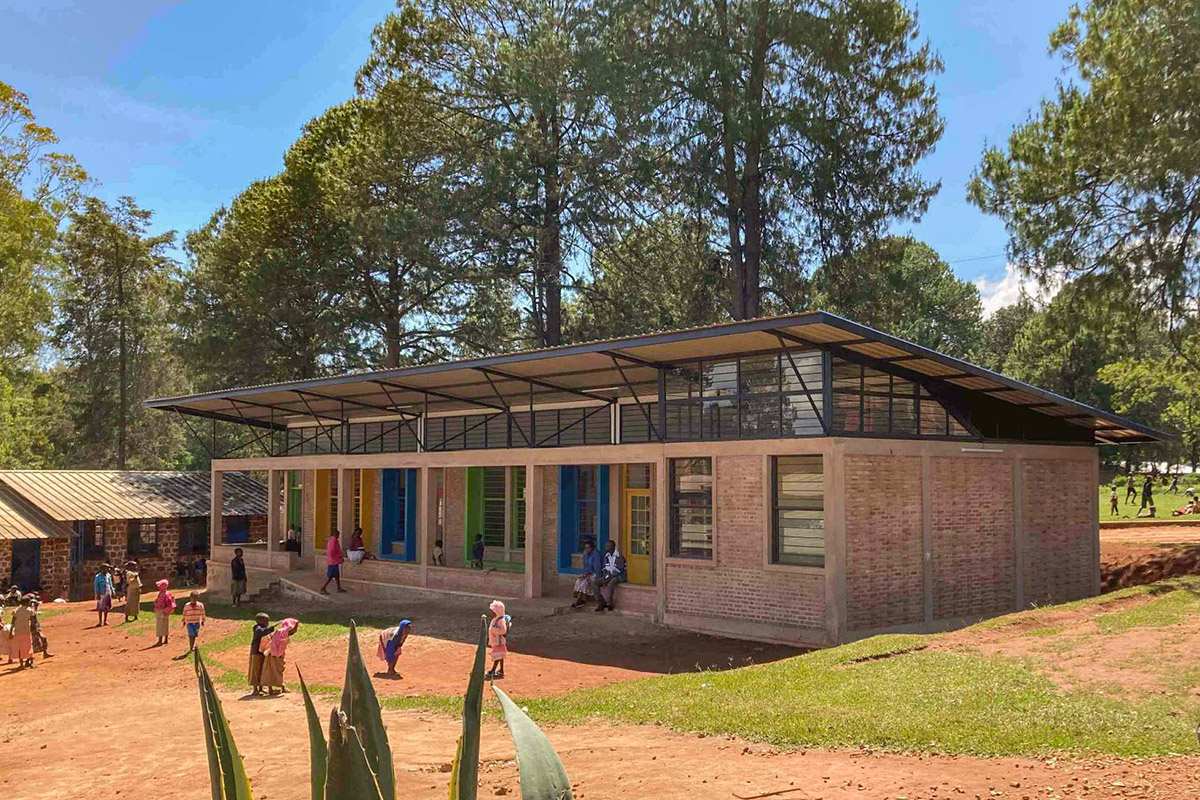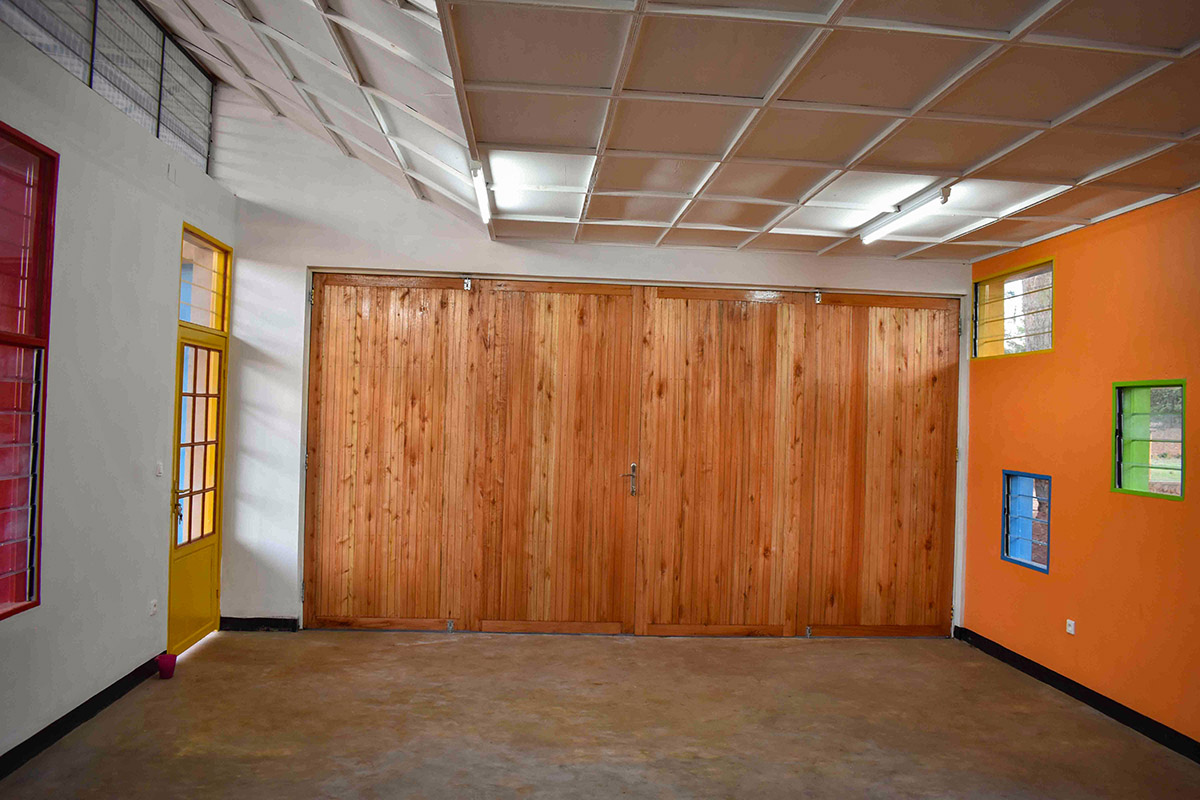 Dans un autre exemple, bon nombre des membres de mon équipe de construction étaient engagés dans leurs propres projets de construction. J'ai été invité à plusieurs reprises à donner des conseils techniques. En raison de leurs revenus limités et de leur manque d'accès au crédit, les Burundais construisent souvent leurs maisons par étapes. Ils commencent généralement par les fondations en pierre et les murs en briques cuites avant d'ajouter les éléments de structure coûteux.
Le problème est que pendant que la famille économise des fonds pour les composants coûteux de la maison, tels que les armatures, le béton et la toiture ; les murs en briques cuites restent exposés à la pluie et se détériorent avec le temps. Avant que le bâtiment ne soit terminé, des défauts structurels, des fissures et des affaissements se produisent.
Pour démontrer une meilleure approche du phasage de la construction, j'ai utilisé un projet de construction résidentielle à logements multiples comme opportunité d'apprentissage. Avec l'équipe de construction, nous avons commencé par les travaux de fondation et de la dalle du rez-de-chaussée. Ensuite nous avons fais les travaux de colonnes, poutres et dalle de l'étage supérieur. La troisième phase a été l'installation de la toiture pour couvrir le bâtiment avant la saison des pluies et nous permettre de travailler à l'intérieur. La quatrième phase a consisté à élever les murs intérieurs et extérieurs sans être affectés par les intempéries. La cinquième phase comprenait la finition intérieure et extérieure, la plomberie et l'installation électrique. Enfin, nous avons abordé les travaux de canalisation des eaux autour du bâtiment ; des travaux qui sont généralement ignorés dans ce contexte.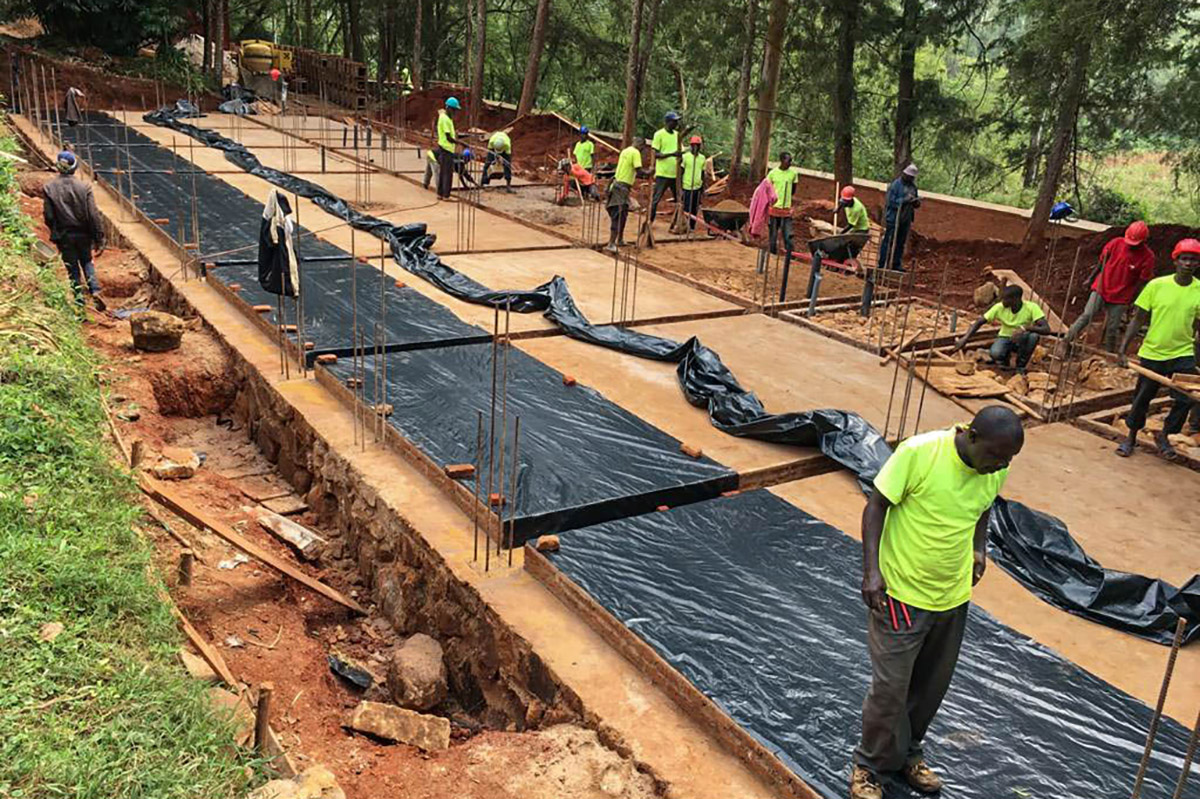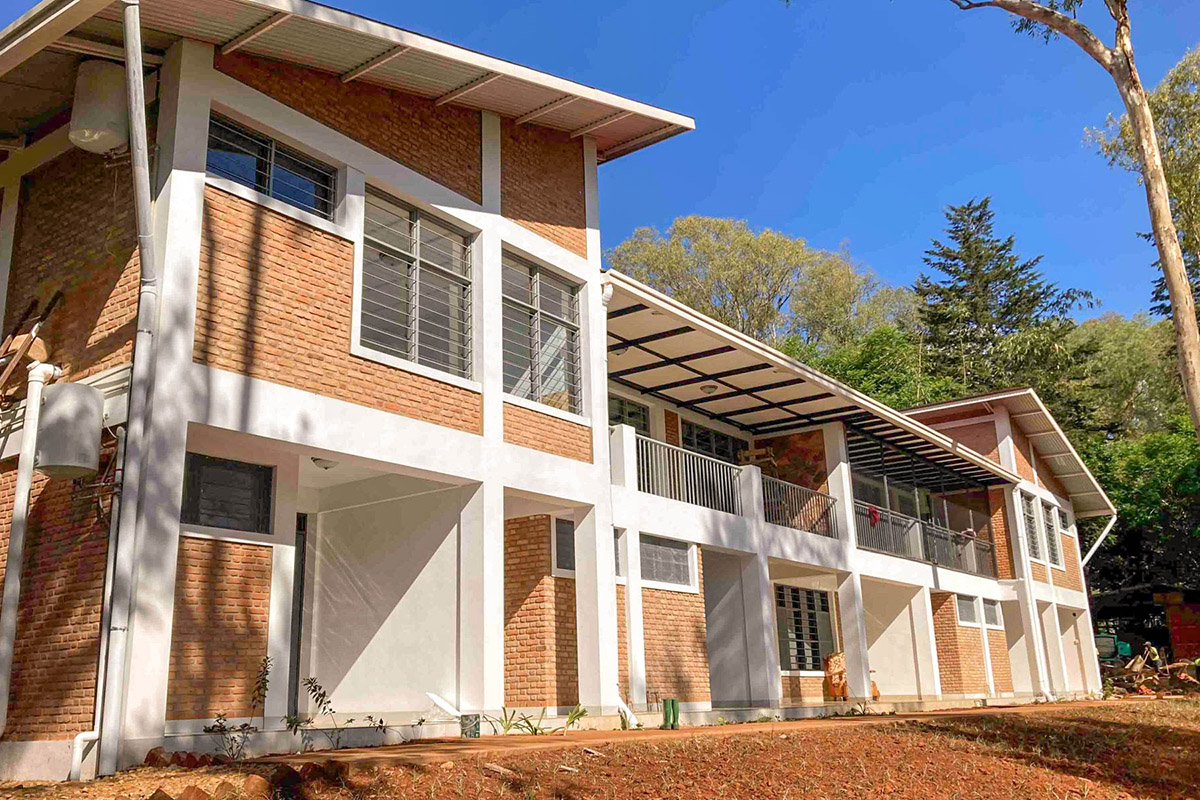 Une voie à suivre
Alors, comment pouvons-nous intentionnellement combler les lacunes des connaissances pour les constructeurs locaux dans les régions reculées pour éviter le gaspillage de ressources et des bâtiments dangereux?
Une réponse à ce problème est de mieux équiper les constructeurs et artisans locaux qui ont généralement une formation limitée. Les architectes et ingénieurs professionnels de la région et des organisations telles que EMI ont l'opportunité de partager les connaissances techniques de manière créative aux constructeurs.
Cette méthode d'intervention peut prendre plusieurs formes. Les professionnels pourraient développer et publier des guides simples de construction, qui tiennent compte des réalités technologiques et socio-économiques de ces régions reculées. Les entreprises pourraient proposer des ateliers et des cours de courte durée accessibles aux constructeurs locaux en termes de prix, d'emplacement et de langue. Ces actions pourraient s'inscrire dans le cadre de projet de responsabilité sociale des entreprises qui conduisent à un changement significatif dans la société.
Enfin, les architectes et ingénieurs professionnels devraient être plus disposés à partager les informations et connaissances avec les contremaîtres locaux et les équipes de construction qu'ils rencontrent sur divers chantiers. La résolution de problèmes en équipe conduira certainement à des solutions innovantes.
A mon avis, valoriser et équiper les constructeurs locaux en vaut la peine, car ils en résultent des meilleures pratiques de construction, une utilisation efficace des ressources et un échange de connaissances pour tous.