It all began with a conversation between our directors before EMI Nicaragua officially opened its doors in 2016. We would start with a master plan of the Tesoros de Dios (God's Treasures) center in Managua and see where it went from there. Our team recruited engineers, architects, and a surveyor to prepare conceptual designs for the necessary buildings and determine their best placement on the site.
Tesoros de Dios provides physical, occupational, educational and speech therapy services to children, adolescents, and their families in a non-residential setting in Managua, Nicaragua. They currently have over 130 children enrolled in their six specialized education programs. These children present a wide range of physical, mental, and intellectual disabilities such as Cerebral Palsy, Down Syndrome, Autism, Spina Bifida, brain damage, learning disabilities, and others. Participants range in age from infants to young adults in their 20s. Most come from low-income families and many live in conditions that are not conducive to their health and development needs.
A main focus of the Tesoros program is the use of hippotherapy—the use of horseback riding as a therapeutic or rehabilitative treatment. Building capacity for this therapy was a key aspect of the master plan. EMI's initial conceptual plan was soon followed by detailed designs for a two-story educational building, horse stables, a riding arena, a workshop, and campus rainwater and wastewater removal systems. It quickly became evident that our role would grow beyond design of these facilities to construction management.
We started out small by supervising the construction of a boundary wall on one side of the Tesoros property. Then we managed construction of the horse stables and riding arena. This new arena is an essential part of the center. It allows the ministry to extend their hippotherapy services through Nicaragua's seven-month rainy season.
The extremely wet weather was not the only obstacle, however. Last year, Nicaragua erupted into a social-political-economic crisis. The arena & stables construction, which started with labor donated by a local contractor, ground to a halt. There were nationwide protests, national strikes, unreliable public transportation, and major economic woes. On the jobsite, reinforcing steel would soon start rusting in rain-filled, muddy column footers. Together we were faced with a major decision: Wait until the contractor was able to send pro-bono workers sometime in the future? Or spend money earmarked for the construction of other buildings to pay the contractor to finish the work? Tesoros chose the latter option and construction was completed in January 2019. The grand opening of the hippotherapy arena was celebrated by the community with a traditional Nicaraguan ceremony and fanfare.
Earlier this year, Tesoros was gifted a property in Matagalpa—a town about four hours from our office. Because of our relationship, EMI was called on to prepare conceptual designs for this new Tesoros satellite campus. We eagerly took the opportunity to grow closer to this ministry and decided to donate our services. Another chance to build a strong partnership with Tesoros was during a recent one-day retreat. The aim was to encourage parents who have the rewarding but difficult role of caring for their kids with disabilities. While parents gathered to hear an encouraging message from the Bible, Tesoros staff and EMI staff and other volunteers worked with their kids at different hands-on activity stations.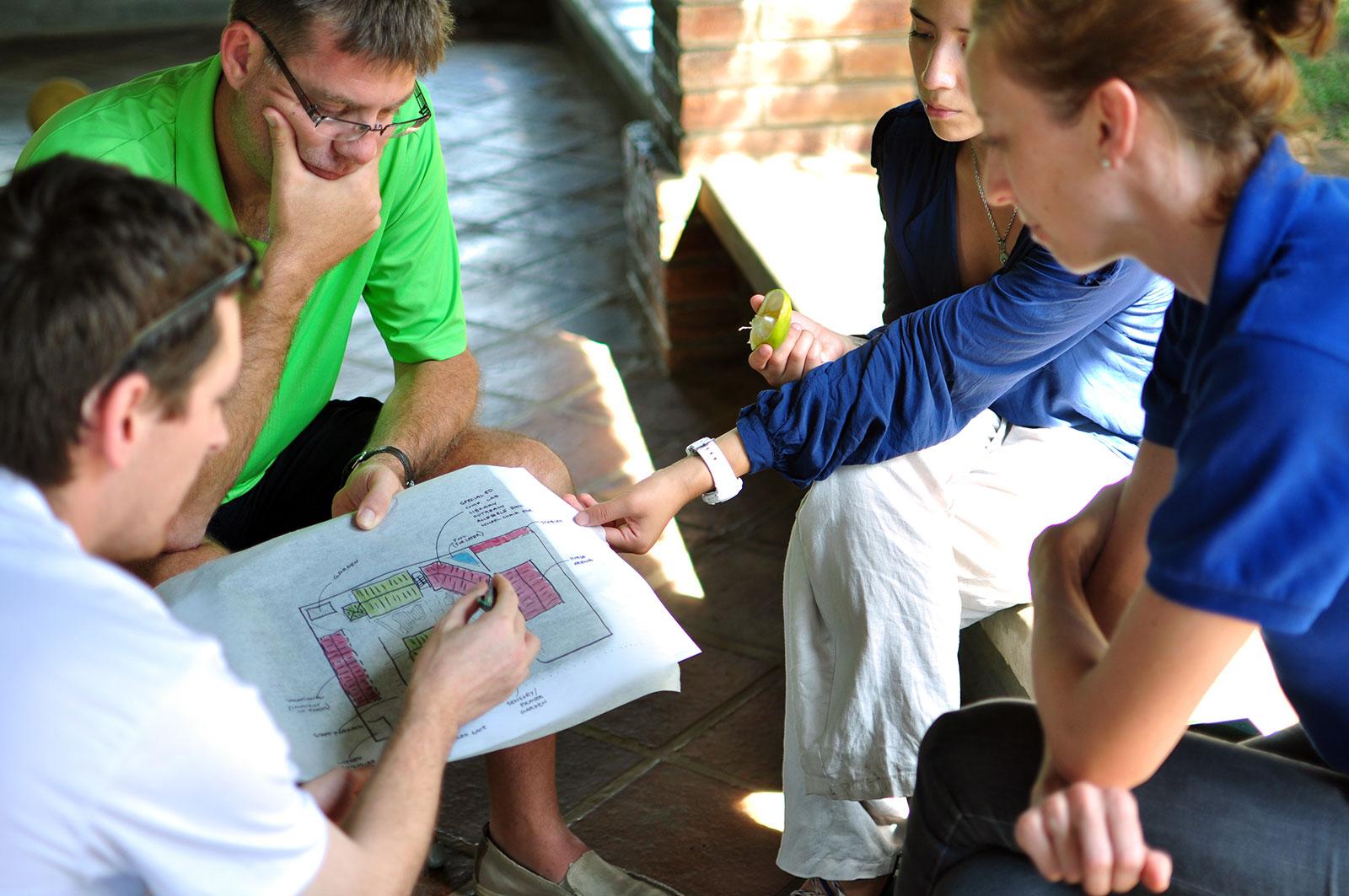 EMI's tagline is, "Diseñando un mundo de esperanza" or, "Designing a World of Hope." We do this by using the engineering and architecture talents God gave us, we do it through times of discipleship, and we also do it with simple acts of service to others. We want to be willing and able to serve in the name of Christ in whatever way we can. Our connection with Tesoros goes well beyond the traditional designer-client relationship. We are partners in spreading the love of Christ as His hands and feet in Nicaragua.