It is a bustling modern-day capital city with a few twists: British-era architecture alongside Hindu temples and 14th century mosques. It is a city without skyscrapers that has a greater population than Australia. It is a gathering place for students, professionals, tourists, and a large rural population that is looking for work. It is a kaleidoscope of colour and people—Hindus, Muslims, Buddhists, Christians, Jains, and Sikhs. As the call to prayer sounds, green & yellow auto-rickshaws, motorcycles, taxis, vegetable carts, dogs, cows, and pedestrians bustle about their business and squeeze their way through streets and narrow alleys. It is Delhi.
Pastor Ranjit has been living here since 2010. He felt called to reach the unchurched urban professionals of Delhi—stereotypically a generation of engineers, doctors, and IT desk jockeys. In this crowded city that is less than 1% Christian, there is still a lot of room to spread the good news about Jesus. So he started gathering a community of family and friends for weekly meetings in people's homes. They prayed, invited, grew, and continued to refine their vision. They called this church New City Delhi.
"This was uncharted territory for EMI India... the project seemed right for getting our feet wet with construction."
Six months later, it was obvious a permanent space was required for weekly worship and other events. As a way to engage and serve urban professionals, they envision combining the church with a co- working space—beginning a more collaborative and organic approach to engaging the young urban soul. This would also provide income to help meet the hefty rent charges in an expensive city.
In late 2018, a location in South Delhi was almost randomly stumbled upon. During the day, Delhi-ites and tourists wander about the nearby park and historic ruins. By night, they occupy the plethora of local pubs and nightclubs. The target audience was already gathering at this place; New City Delhi would bring "church" to them.
Two floors were available for lease in a building adjacent to a parking lot—one of New City's prayer requests for a new space. The only problem was that serious renovation was required. The interior was covered in six years of dust and neglect. Several of us from EMI were attending and serving at New City, so Pastor Ranjit asked EMI to design the interior and to perform all the renovations.
This was uncharted territory for EMI India. Due to the ministry's mission and proximity to the EMI office, the project seemed right for getting our feet wet with construction. We worked closely with Pastor Ranjit and his team, who were looking for a modern and "cool" vibe for their venue. They wanted to match the café culture that would appeal to the regular local crowd.
For Keziah, it was a great opportunity to help her church as an architect during the transition between spaces. It was personally satisfying for her to share in bringing New City's vision to life with appropriate and functional design. On the construction side, Surajeet and Rajesh coordinated the materials and laborers to implement the designs. Days were spent visiting vendors and running between site and office. Evenings and eventually nights were spent demolishing, laying bricks, patching walls, tiling, plastering, painting, and installing electrical systems, plumbing, glass walls, air conditioning, and much more.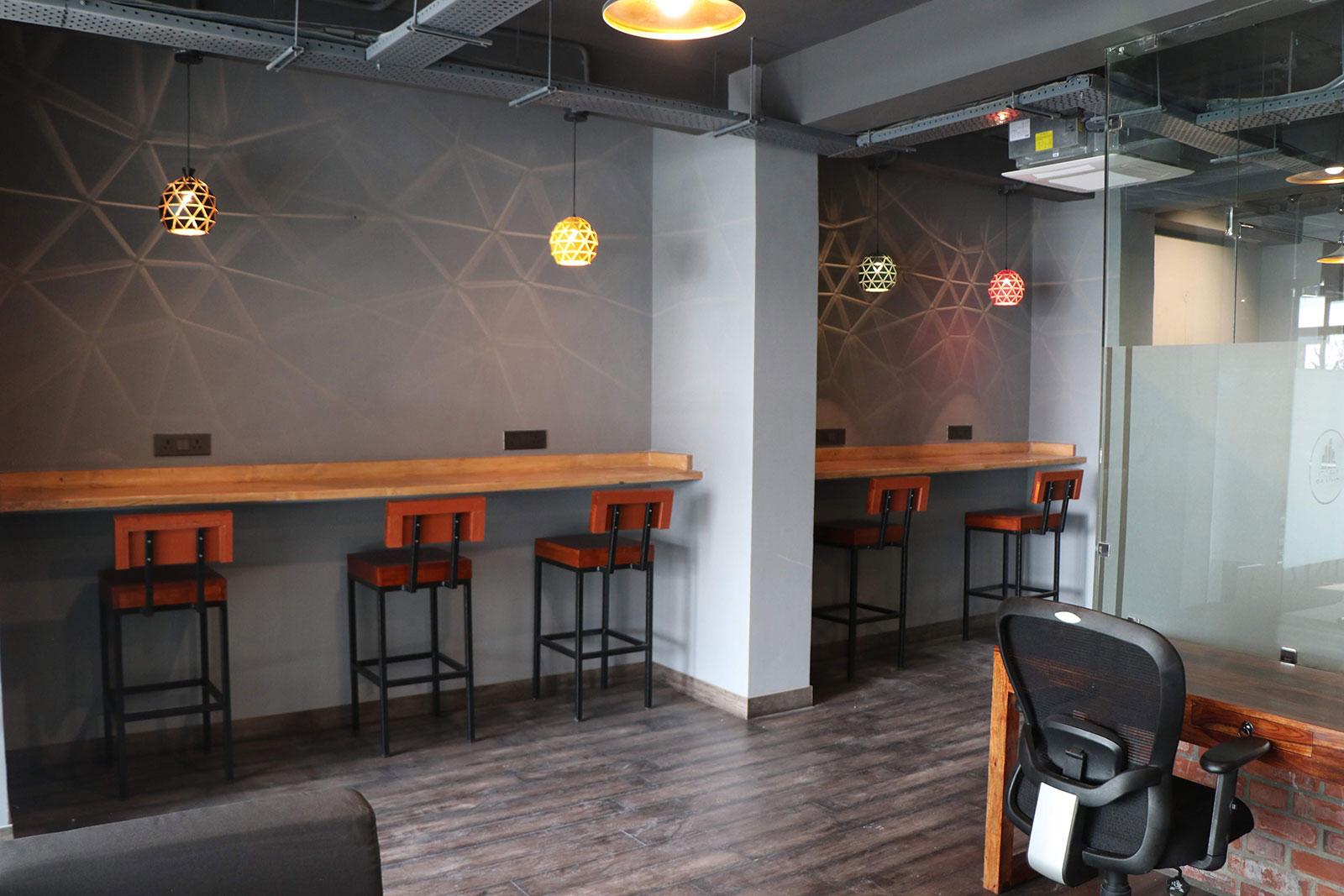 This design & construction collaboration was a huge success. New City was very pleased with the look and feel of the completed venue as well as the speed and economy of EMI's services. It was also an important learning experience for our team. By venturing into construction, we hope to ensure EMI design is implemented effectively, build office sustainability, and allow ministry leaders to focus on their calling rather than managing construction projects. The New City Delhi project was the perfect growth step for EMI India construction, and a giant leap for the gospel in a young city seeking truth.